We present a new article that tells the story of one of the companies recently funded by October. Today, we focus on a Venetian company with a rich tradition and a forward-thinking outlook. We had the opportunity to interview Egidio Giacomini, the CEO of this historical company: let's discover together this borrower story.
What does your company do, and how has it grown since 1910?
"Velcoc – Giacomini & Gambarova s.r.l. is a manufacturing company specializing in producing and selling mats and rolls made mainly from coconut and rubber.
The Giacomini family's business adventure began in 1910 with the establishment of a craft company that imported spices from India. Soon after, in 1912, they added the trade of coconut fibers".
Between World Wars I and II, the company's entrepreneurial spirit and innovation led to the creation of a weaving company that employed 120 workers to produce coconut mats.
"The second generation of the family drove the first major technological revolution, investing in cutting-edge machinery and specialized personnel.
In 1974, the Velcoc brand was born, and over time, it became synonymous with coconut fiber mats. Under this brand, the company established itself as a world leader in producing and selling these products.
In 1992, I officially joined the company as a representative of the third generation and became the new CEO".
With your arrival as CEO, Velcoc reached a new milestone by opening a company in Kerala. Can you tell us about it?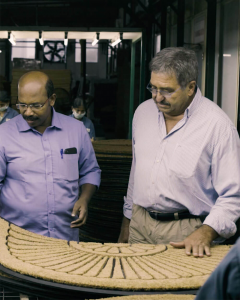 "In 2000, with the help of our collaborators, we founded Kerafibertex Int. Pvt. Ltd in the state of Kerala in southwestern India. This strategy aimed at ensuring a direct supply of coconut fibers.
With 500 employees and multiple production sites within a 150 km radius of the headquarter, this business has become the leading supplier for companies such as Target, The Home Depot, and Ikea. It is now the world's leading producer and exporter of coconut mats".
Your company has faced many challenges, including those related to the pandemic. How has the company responded?
"Our family, by tradition and attitude, has always invested heavily in research and development.
As a result, at the beginning of 2020, we purchased 13 hectares of coconut fiber palm plantation to optimize production and control the entire process from sourcing to the end product.
The pandemic considerably slowed this process but, at the same time, allowed management to find the best solution. The ambitious project envisions a "zero" energy and environmental impact operation."
From difficulties, the best companies create opportunities. What can you tell us about the future of Velcoc?
"In the processing to extract coconut fiber from nuts, a series of "waste" materials are produced, which other sectors, such as gardening or construction, could reuse. And they could also reuse them as fuel for the thermal power plant to power the entire complex. A waste that provides energy to produce new materials derived from sustainable cultivation (which in turn is fed with other waste materials) is the maximum aspiration the company can strive for to embody the concept of a Circular Economy.
The Giacomini group operates daily to ensure that its employees and product users have the highest quality and negligible environmental impact".
Can you give us some examples of initiatives taken in this direction?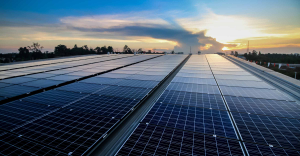 "I would like to mention some particularly significant ones:
installation of state-of-the-art photovoltaic systems in the facilities in Italy and India, use of recycled materials and/or waste from other processes;
development of machinery for recovering waste from doormat processing, with the possibility of 100% recycling of the waste;
company welfare operations such as Sodexo Vouchers and Fuel Vouchers for all employees in Italy;
free corporate canteen makeover and implementation in India."
We had the opportunity to learn about your company following a financing request: can you describe your experience?
"Like in many other sectors, the pandemic emergency impacted the production chain: the funds allowed us to manage a surplus in our inventory stocks.
The experience with October, known through Warrant Hub, was positive: professionalism, competence, and speed are key factors in the funding request, and that's what we found in this case".