Give a second life
Founded in 2018 by Matthieu Odringe Lukasi, GobUse is a start-up that offers plastic recycling stations to businesses. Matthieu once found himself in front of a coffee machine and noticed that next to it lays a mountain of used cups. Faced with this awareness of the massive consumption of plastic cups in companies, the idea of GobUse was born.
With GobUse, Matthieu wants to make recycling accessible to as many people as possible by offering a ready-to-use solution of recycling bins with a regular or on-demand collection package.
"At GobUse, we work on driving change to help companies becoming truly zero waste companies. Our business today is to identify and collect waste to give it a second life."
GobUse takes care of the entire recycling process: from collection from companies by people with disabilities, to processing and putting the transformed products back into use.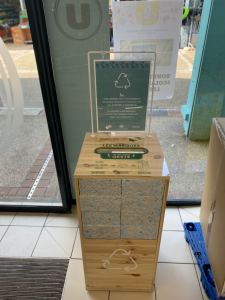 Financing the creation
Starting from scratch, launching a company, is not always easy, and financing is a real issue. At the time, two banks agreed to finance GobUse's first steps.
"I had to spend at least a whole year preparing my business plan and pitching my case to my bank to get a loan. There were no assets, no turnover. You had to imagine everything, plan everything and show that you could think of everything."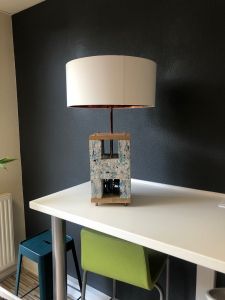 Amazing growth
GobUse did not suffer from the Covid-19 crisis. On the contrary, the start-up saw it as an opportunity for development.
"One of our leading products at the moment is the mask. We have been collecting them since September 2020, and then transforming them into tables, chairs, paintings or decorative objects. We've managed to collect some from shops and then turn them into products that were used to decorate those same shops."
In 2021, GobUse has grown by 383% compared to 2020. This growth is necessarily matched with material and immaterial investments. Gobuse therefore decided to move to larger premises and expand its team.
"There are 3 of us at GobUse and we plan on recruiting 3 more over the next few months."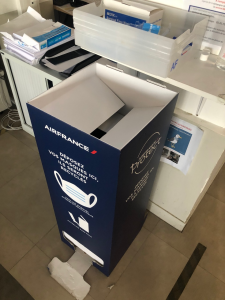 The choice of an online loan
GobUse opened an online business account at Qonto in 2019. He was immediately attracted by the ease of cash management and the connection to other accounts.
"The great thing about Qonto is that every time a payment is made, I get a notification on my phone. That's awesome!"
After being informed about the possibility of obtaining a loan from October via the Qonto newsletter, Matthieu wasted no time in filling in his application and adding the necessary documents for the assessment. Going through a period of rapid growth, he needed a reactive solution so that he could fully concentrate on his business. Automated bank data analysis on the Qonto x October platform allows for an instant response and accelerates the loan process dramatically.
"In all honesty, when I was told about the schedule, I said to myself that it's not possible, they're not going to keep it up, it's too fast. A few days after the validation of my application I had the funds in my account! The totally online process doesn't intimidate me, on the contrary, it makes the exchanges more fluid and we can actually see that it works. Sometimes you wonder why we don't all function like that…"
Complementarity at its best
What Matthieu expects from a financial partner is support in crucial times like these. With the combination of his Qonto pro account and the October loan platform, Matthieu has found the ideal combination.
"In my opinion, the Qonto October combination is the perfect alternative to traditional banks, whether it is for investment, projection or financing. It is a very fluid solution that meets a specific need. For a start-up that needs financing and wants to work on growth with a partner that is fast and responsive, I recommend Qonto and October."