On January 15 Anthony, from Ajaccio in France, lent to his first project on October. A special moment, not only for Anthony, but also for October: Anthony was the 20.000th retail lender to lend to a company through October!
Once upon a time
On March 31st, 2015, we published our first project on the platform. Our first borrower was the well-known French chef Alain Ducasse, who borrowed €160,000 from no more than 65 French retail lenders to buy new kitchen equipment. The early adaptors of October were essentially friends and family who funded a total amount of €19,200 to support the project.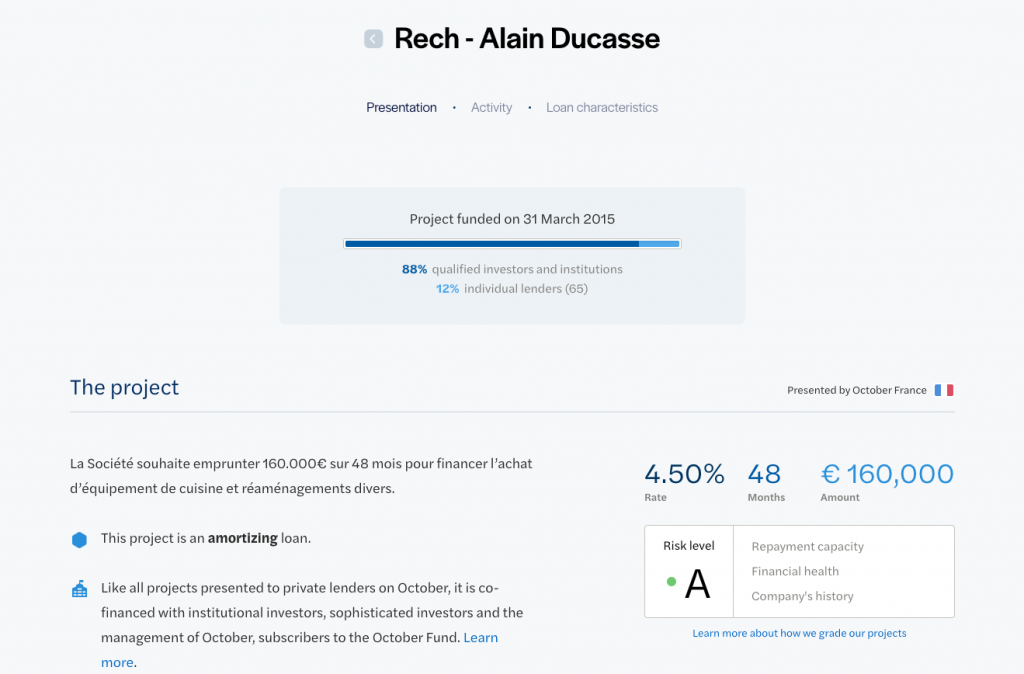 Much has changed during the 5 years that followed. We changed our name from Lendix to October and we have expanded to 5 countries. Coincidently the project in which Anthony invested for the first time was also a French restaurant: Nina Sushi #2. However, instead of 65 lenders, 2,273 lenders from all over the world lent to this company for a total amount of €152,880.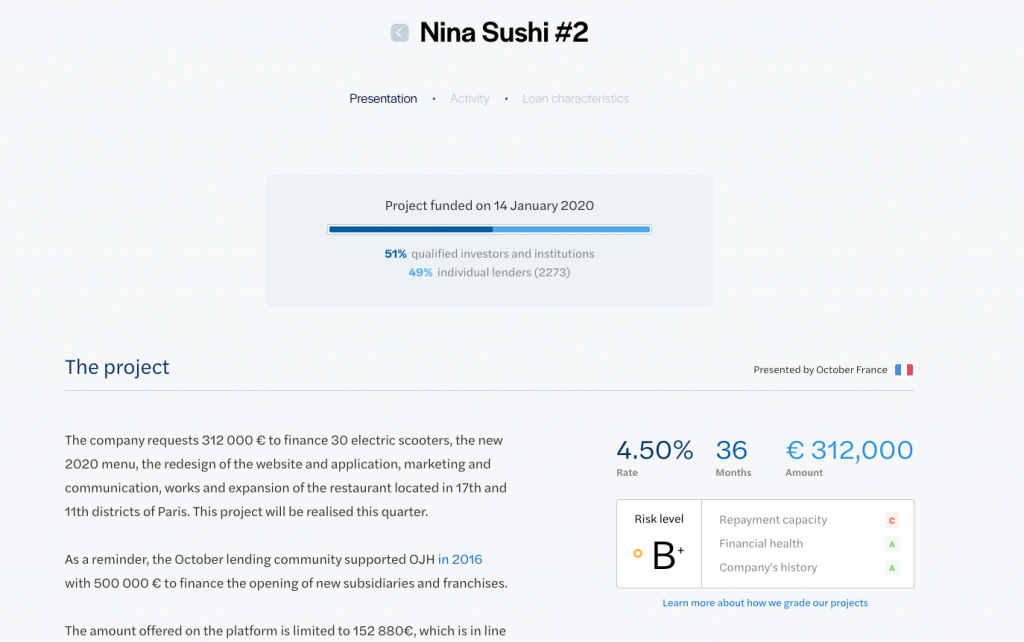 The more, the merrier
Since the first project, October's community has multiplied by 50. Just before the publication of Alain Ducasse's project, the community counted 1.300 lenders. Today, 64.000 people have signed up to October, of which 31.5% have made at least one investment.
We have you to thank for a great part of this growth. No less than 25% of the people that sign up with October come by recommendation from a friend!

Parlez-vous français?
The community counts many different nationalities. Through October it's possible for people from all over the world to lend to companies from France, Spain, Italy and The Netherlands. There are lenders from Japan, Brasil, Vietnam, you name it! Nonetheless, the largest part of the lenders community is from the country where we first started: France. Almost 78% of all lenders is French. 9% of our lenders is from Spain, 5% from Italy, 1% from The Netherlands and 7% is from the rest of the world.
And who's the typical October lender? It's a man (88% of our active lenders is male), in his 40's (42 years old on average) and living in a city.
Money, money, money
The projects on October are financed by a unique mix of retail and institutional lenders, along with the management of October, to align their interests with yours. Together they have lent over 385 million euro to European SMEs. Over the past 5 years, retail lenders have invested a little over 70 million euro. This amount is divided over 773,756 loans, which means the average loan on October is now €92.60.
The average lender on October invests around €3,500 on the platform and builds a diversified portfolio of almost 39 loans. We have asked the community why they start lending? Most do it to diversify their investments, to boost their savings or to support real businesses.
Community favourites
Retail lenders are in control. They decide which projects they lend to and how much they lend. Therefore, it is interesting to see which projects they supported the most:
€563,280 for the French project Oceanis Promotion. A B+ rated project with a maturity of 36 months and an interest rate of 6.65%.
€485,380 for the French project Réalités #2. A B+ rated project with a maturity of 36 months and an interest rate of 6,3%.
€437,340 for the French project Gilles Trignat Résidences. A B rated project with a maturity of 36 months and an interest rate of 7.05%.
Zooming out, it is no surprise that these projects have received the most funding from retail lenders. Retail lenders normally have a preference for lower risk projects, with an A+, A or B+ rating. On average they lend 11% more to these lower risk projects. Besides, retail lenders like projects that have a relatively high interest rate of over 6% and a short duration under 48 months. Yes, yes you're right 🤗, "they want it all": low risk, high interest and a short duration.
Whereas the interest rate depends on the risk scoring and the duration of the project, the projects above represent a unique combination of a high interest rate with relatively low perceived risk.
Into the future
Time for growth is our motto. This won't change now that we have reached this milestone. However, we do want to take a moment and thank all the 20.000 lenders that have trusted us and lent money through the platform. Thank you!
In 2020 we aim to lend more money to more companies from France, Spain, Italy, The Netherlands and Germany with more lenders. Help us reach the next milestone by sharing your promotion code and spread October over the world.