This summer many of you participated in our summer contest #StriveTogether to help SMEs. It wouldn't be fair to say that one of these great initiatives is better than the other. That's why we have randomly picked a winner among the participants. Lender Lucile O. is the lucky winner of this year's contest! For helping SMEs through the corona crisis, she wins a €100 bonus to continue supporting companies on October.
The purpose of the contest #StriveTogether was to share a video, a picture or a post on social media (Facebook and Twitter) about how you helped companies to recover from the Covid-19 crisis during the summer. We received many innovative initiatives. In this blog we shine light on your great actions. Thank you all for your participation!
Buying local
Many lenders helped SMEs by consuming local products. They bought from local producers and small markets to avoid the supermarkets.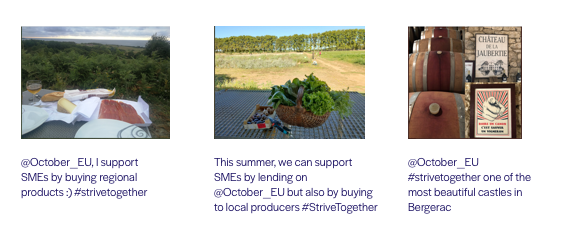 Lending on October during the holidays
Thanks to the mobile app October, our lenders continue to support SMEs projects wherever they are. From the beach or from the top of a Chinese skyscraper, many of you decided to give an impulse to companies' recovery this summer by directly financing their projects.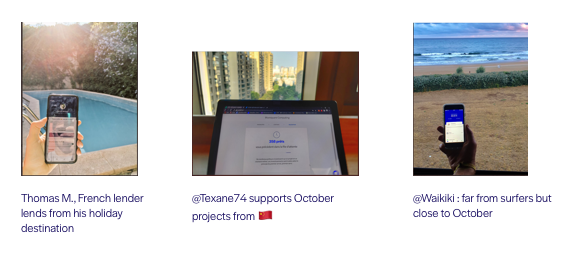 Adopting animals from a zoo
Due to the coronavirus, Het Kasteelpark in the Dutch village Born, could not receive any visitors. To support the zoo, the management came up with creative initiatives, among which symbolically adopting an animal from the zoo. From €25 you could be the symbolic owner of an alpaca, monkey or a parrot. One of our Dutch lenders, Albert H., participated in the initiative and has adopted 3 Agapornis (also known as Lovebirds).
October employees' also participated in the contest
October employees also took advantage of their holidays to invest and participate in the recovery of European companies. Unfortunately for them, they had no chance to win €100.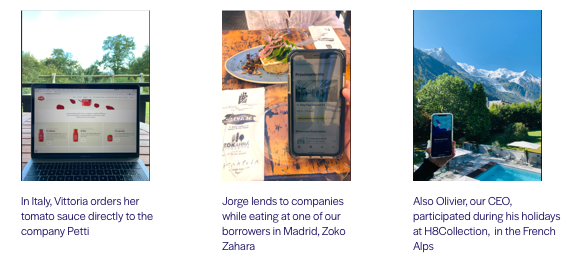 All of us can help SMEs recover from the Covid-19 crisis. By visiting your favourite restaurant, buying from small producers or lending on October… all these actions, whether big or small, represent an opportunity for companies, and especially for SMEs, to get back to normal activity levels. We thank you all for your participation to this contest and hope that you will continue supporting SMEs by lending to our projects.