NS8 is a fraud prevention platform based in Las Vegas that combines behavioural analytics and real-time scoring to help businesses minimise risk. Its CEO Adam Rogas was seen as the ideal leader having upward career, being a valued individual with strong corporate partnerships.
But what happened to NS8?
In 2020, the cyber fraud software startup's executives had begun to wonder about the real amount of its funding. Its CEO, Adam Rogas, was the only one who had access to one of the two bank accounts where the clients revenues were transferred. Thus, he was the focus of attention.
He started to be under pressure from the finance department to show the bank statements. In August 2020, he agreed to meet with the company's Vice President of inance to provide the login details of the bank account, according to informed sources.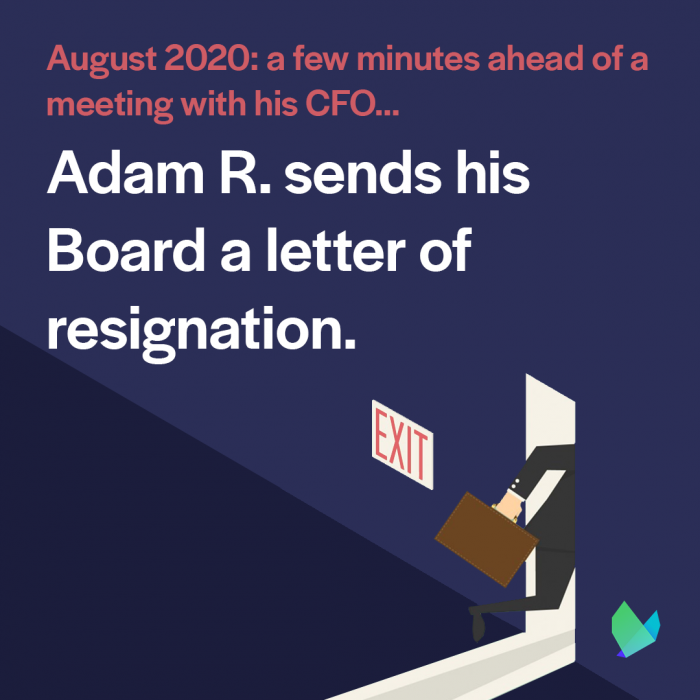 In a new twist, a few minutes before the scheduled meeting with the VP of Finance, the NS8 Board of Administration received an email from Adam Rogas, announcing his resignation as CEO, with immediate effect.
In September 2020, he was arrested by the FBI charged with multiple counts of fraud by the Department of Justice and the Securities and Exchange Commission, claiming that he falsified bank statements and deceived investors for years.
➡️ Learn more about Connect Fraud module
The massive fraud
In 2017, NS8 was seen as a successful company with promising partnership programs with major e-commerce platforms such as Shopify and Magento, recommending NS8 solution to their own marketers. With this reputation and the good revenue showed by Adam Rogas, NS8 easily scored $7.5 million in a seed investment round led by Arbor Ventures. When the fraud was revealed, Adam Rogas was suspected of presenting false financial statements to investors for that first round. He actually had full access to NS8's account with Bank of America which was receiving all payments from customers and revenue. It would have allowed him to hide all the details and report highly inflated revenues.
In September 2019, NS8 raised again $50 million. Its false bank statements showed $23.7 million of revenue, but according to the Securities and Exchange Commission (SEC), the actual amount was $5,636.
Following this, authorities began investigating NS8 in late 2019. Adam Rogas and two other executives received court subpoenas from the SEC. Despite the pressure, Adam Rogas allegedly continued to falsify the company's bank statements.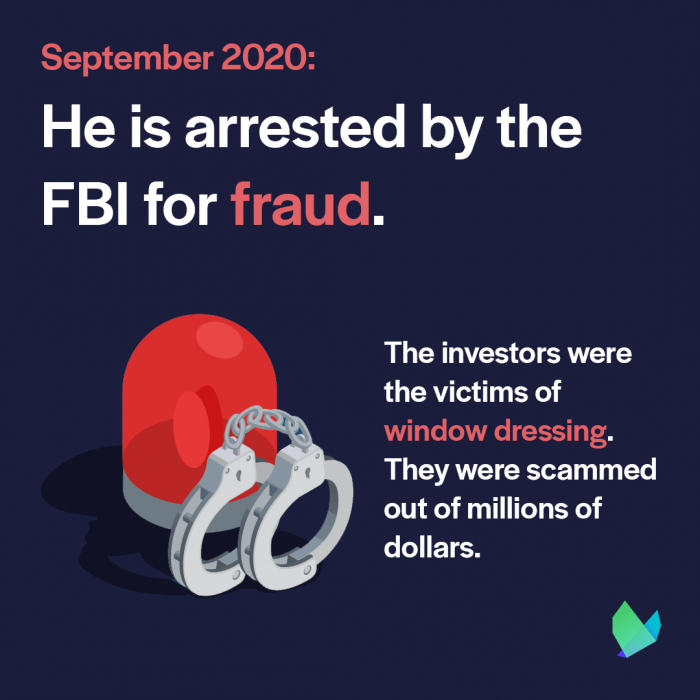 According to Forbes, prior to his arrest, Adam Rogas said investors had pushed to buy more shares of the company after it nearly ran out of money in September 2019. As a matter of fact, in April 2020, he pocketed more than $17.5 million when he sold his shares to investors after a closing of $123 million funding round led by Lightspeed.
He resigned the month before his arrestation for fraud, saying that he was leaving the company for personal and family reasons.
➡️ You are an investor? Talk to our fraud expert!
Avoid the window dressing with October Connect
Adam Roger used the window dressing method which caused the financial loss of the investors who were escorted.
What is Window Dressing? 

The Window Dressing includes the various techniques allowing to improve the accounting layout of the company. It is commonly used when the CEO has planned a key event in the development of the company, which involves presenting it in its most favourable aspects. This type of presentation can be used in the context of sale, a search for financing or the construction of an alliance strategy.
With the October Connect solution, a simple review of bank statements would have revealed the various falsified bank documents, saving the company millions of dollars in lost revenue.
By Using October Connect's Company Scan module, a risk analysis is performed, enhanced with several scores. It enables the cross-referencing of data and provides a global vision of the company's cash flow, its current management and its evolution, while reinforcing the security of the process.
Cross-referencing and reconciling October Connect data would have allowed the identification of suspicious behaviors (such as document falsification, account dressing, etc.) that would have been difficult to spot without an appropriate software.
➡️ Book a demo

Source: 
*https://www.forbes.com/?sh=5abc8c3e2254