We're going to start this Blog article with the obvious: a good Tech team is essential for a Tech company. Tech is crucial when it comes to implementing new ideas, such as our new Instant loans for example. Furthermore, a Tech & Product team is vital in developing features, creating a path towards data efficiency and a smooth user experience.
At October this A-team is in charge of making sure that your are repaid on time and that you can finance new projects. They're the ones handling millions of transactions on the platform through both desktop and the mobile app. They also focus on building the best user interface and experience to both borrowers and lenders.
And guess what? October is not the only company aware of the importance of a good Tech team. That's why developers, engineers, designers, etc. are so hard to come by.
During the confinement we got lucky. This is the story of the newest incoming transfer in the Tech team 🔦
It all started with a Twitter discussion
October actively updates its community of lenders, borrowers and partners on its Facebook, Twitter and LinkedIn accounts with the latest news and insights. Social media is also a great tool to communicate with our users and many of you send us feature requests this way.
One of our users, Thibaud (@errorname_ on Twitter) shared a very interesting initiative: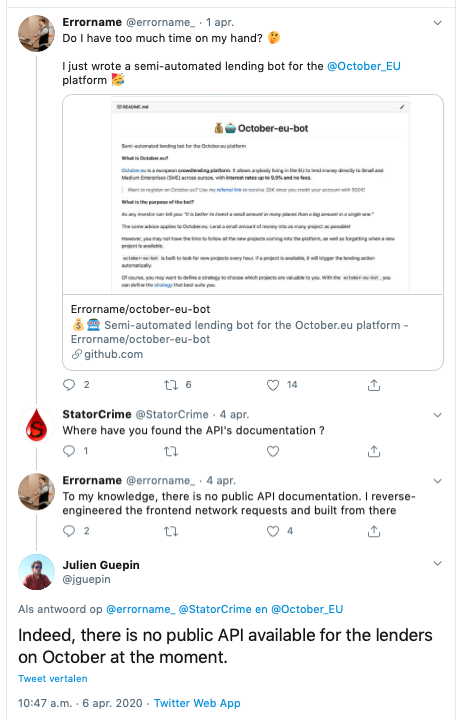 Since we started back in 2014, a lot of our users have been asking for an auto-invest feature. A feature with which they would never miss a project and wouldn't have to do a manual investment every time a great opportunity comes by. Being an able developer, Thibaud took the initiative to build his own bot to semi-automatically invest in new projects.
His tweet caught the attention of our Chiefs of Marketing and Tech who were quick to say: "We should hire this guy." on our Slack channel.

Easier said than done, you might say. However, we reached out to Thibaud and it only took a couple of (video) interviews to realize there was a fit. We're very happy to call Thibaud our newest addition to the October team in France. Thibaud is also happy:
I had too much time on my hands during the confinement and the desire to develop this "auto-lend" feature came to me! After talking with Julien (CTO at October), I was even more convinced by the economic and social approach of October. I am very happy to join a new professional venture that already makes sense to me personally.
From September Thibaud will be working as a full-stack developer in the October Tech team. What will be his missions?
Data visualization of company data extracted by our Data team,
Building customizable and scalable credit tools to adapt to our partners needs,
Customize the borrower journey depending on the form of company, country, context, etc.
Connecting to dozens of European data providers to collect data about companies,
Building an instant credit decision algorithm based on this data,
Onboarding lenders on the platform to allow them to diversify their October portfolio quickly.
Unfortunately, we have to let a lot of you down. Thibaud will not be working on an auto-invest feature… By the way, we haven't developed it yet because of 2 main reasons:
The French Regulator has not explicitly allowed a feature where lenders wouldn't be the one lending.
We like that lenders to take their own decision after analyzing the project.
Will you be the next addition to our team? Read about working at October on our career page and find all our open positions in our career portal.