The loan granted on the October platform in favour of C.M.D. S.p.A has been awarded as one of the best debt operations for Italian SMEs
During the course of the 2019 Private Debt Award October received a special mention in the "Development" category (growth projects made through the entry into new segments and geographical areas or through the development of new products and/or technologies). The award, promoted by the Italian Association of Private Equity, Venture Capital & Private Debt and  Deloitte, valorised the best investments in debt operations carried out on Italian SMEs from 1 August 2017 to 31 December 2018.
The mention highlighted the instrument of P2Plending as a legitimate promoter of development resources for Italian firms. In particular, the award highlighted the innovative nature of October's business, which allows private lenders and professional investors to contribute resources directly to the real economy.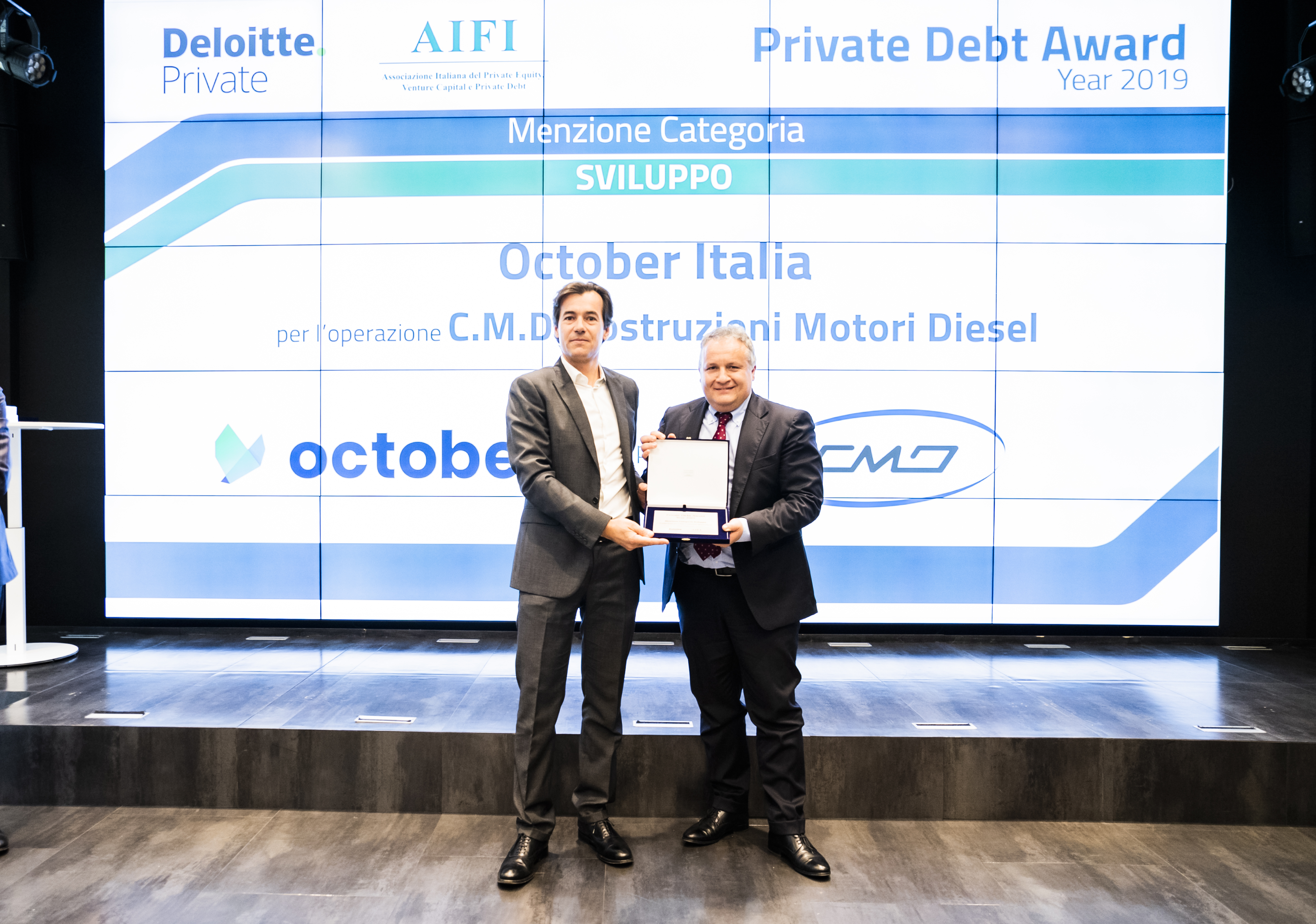 C.M.D Costruzioni Motori Diesel S.p.A., an international leader in the design and development of endothermic engines based in Atella (Potenza), has obtained €2,000,000 at 30 months to finance the five-year investment plan that includes new production plants, machinery and equipment. The advisor of the operation was Claudio Calvani, partner of Consilia Business Management S.r.l., while for the company the operation was assisted by Luciano Soviero (CFO C.M.D.). The operation was innovative because the loan was partly subscribed by 2,394 private lenders while the remaining amount was subscribed by the October credit fund.
Sergio Zocchi (CEO of October Italy) comments: "We are very satisfied with this recognition because it values the enormous potential for development of the P2Plending market, specially in a predominantly bank-centered system like the Italian one.

Mariano Negri (CFO of C.M.D.) comments: "C.M.D. has an ambitious investment plan that foresees, by 2021, the doubling of turnover and profitability and a relevant change in the product mix. We are proud to have found a fast and flexible partner to accompany us on this growth path. And I think that today diversifying the sources of financing is crucial for SMEs.