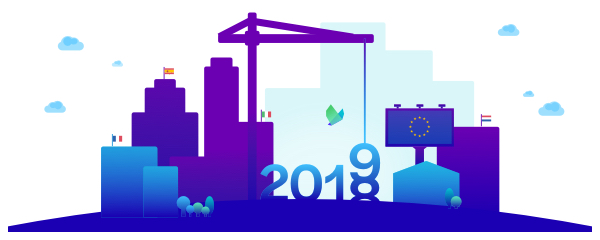 It is now a tradition at LendixOctober, the new year means an open letter to our community. We must admit that we particularly like this exercise. It's another opportunity to share with you, transparently, what worked well and what didn't, and to give some perspective on the coming year (we rarely dare to go beyond that – everything changes very quickly in our world…).
2018: replay
We continued to focus on our mission: helping small and medium businesses to borrow better. This year, 190 companies diversified their sources of financing at a key moment in their development: purchase of business assets, modernization of their production equipment, intangible investments (in marketing, recruitment, etc.). During these important moments of life, SMEs found a simple and fast solution with October. 190 moments of life that generated €111,300,000 of loans. This is less than expected, particularly in France where we underperformed, but to put this figure in perspective, it is more than any other SME platform in France, Italy, Spain, the Netherlands or more generally in continental Europe. A real acceleration: we have lent, over the past 12 months, as much as in our first 33 months.
We passed both the symbolic treshold of 150m€ lent since our creation, and 250m€ (the latter on 24 December at 8h11 to be precise).
If we have been able to finance so many European SMEs, it is thanks to a unique community of 15,484 active retail lenders and institutional investors (the European Investment Fund, Bpifrance, Groupama Italy, CNP Assurances, Eiffel IM,… to name but a few). Together, they have generated 230,852 business loan contracts over the past 12 months.
Starting with Lendix in January, we became October… in October. A rebranding that you might have heard about… One thing is certain, it has taken us a lot of – too much – time and effort! We are nevertheless very happy with this new name, which is ideal to support our European ambitions.
Having financed more than 500 borrowers, we logically have to manage complex situations with entrepreneurs facing real difficulties (accidents, bad surprises when buying up business…) but also from deceitful people who have knowingly hidden the reality of their financial situation. We have necessarily drawn conclusions from this. Taking, for example, a higher margin of safety in takeover situations by adapting our scoring model. It also has reinforced our practice to pursue dishonest people without ever relenting. In a recent case, where after €150,000 of lawyer's fees (at October's sole charge and not at the lenders' expense), we have recovered the entirety of your claim (€500,000) and put behind bars three of the guilty parties. With the aim to convey this message: do not come to us with doubtful intentions, we will fight and won't be shy about it. We cannot comment on ongoing cases, but that rule will apply. Always.
We made good progress on the road to the Europe of Financing that we care so much about. We granted our first loans in the Netherlands in December. The 4th country in 4 years, after France, Spain and Italy. Now our staff (90 people) is 45% in Madrid, Milan and Amsterdam; 45% of our loan volume in 2018 was outside of France.
We have invested heavily in technology on the Borrower side. And this is only the beginning. We talk too little about it, but this letter is a good opportunity to illustrate it with two concrete examples:

Making decisions more effectively (for example, by holding our credit committee votes via our internal exchange tool – see screenshot)
Measuring automatically where we need to invest (in technology, process improvement or team coaching) for each step of our Credit process. This has given rise to SLAs (Service Level Agreements) that measure our organizational efficiency in real time (see screenshot). Improve, measure, improve again. That is our state of mind.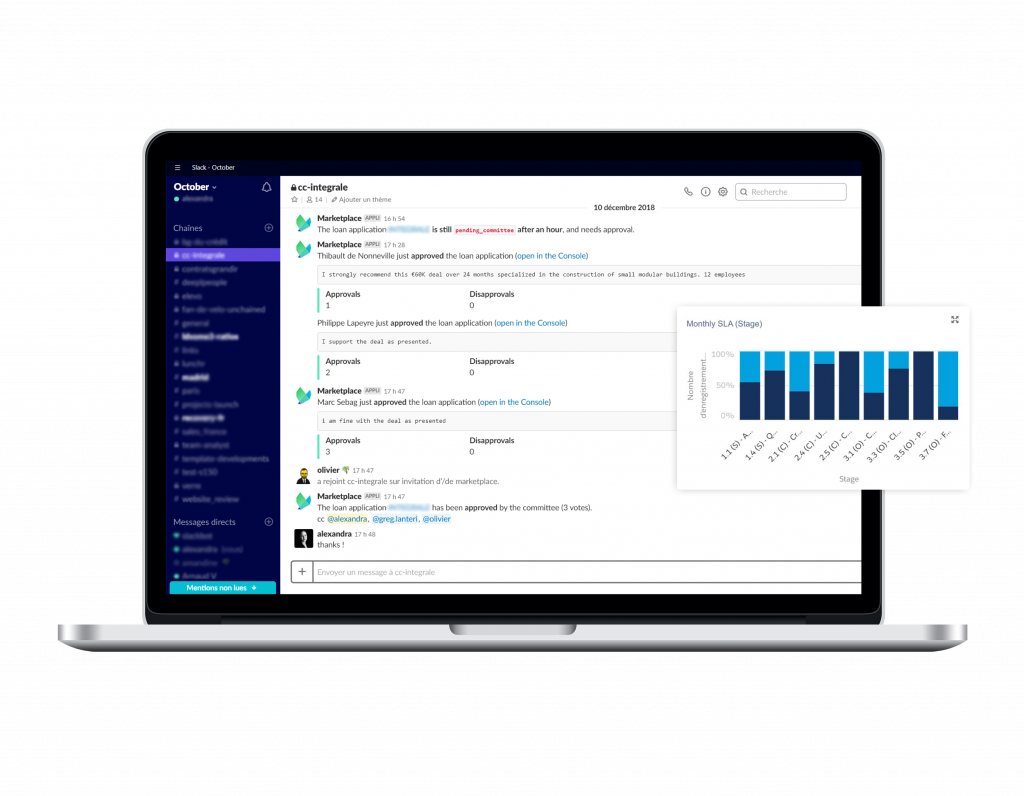 Finally, we were able to support our ambitions by raising €32m in capital from Idinvest, Allianz, C.I.R. Spa (De Benedetti family) and our historical shareholders. This precious fuel is still in stock at the end of December. An indispensable treasure to finance our future projects.
And now let's talk about the future!
We are starting 2019 with even more conviction and ambition.
Let's remember to fasten our seat belts
The market will be tighter for corporate financing. Especially in France. We are convinced that the abundance of liquidity has led to poor risk pricing in recent months and that this phenomenon will slow down. It is not normally easy in a growing company to choose caution, but it is for October because of the alignment of interests we have with our lenders.
Rome was not built in a day
Especially when you want to set up shop in Paris, Milan, Madrid and Amsterdam…(Note that Frankfurt is missing from the call. We are still looking for the right CEO to carry out our installation in Germany).
Explaining tirelessly to entrepreneurs why and when loan platforms can be relevant to support them in their growth is our main challenge. We are creating a market that did not exist 4 years ago. The Grow Together operation carried out in France at the end of 2018 alongside 11 major groups (AccorHotels,The Adecco Group, Allianz France, Arkéa, Edenred, ENGIE, Iliad, JCDecaux, SUEZ, Unibail-Rodamco-Westfield and Webhelp) met precisely this objective. Following the success of the French edition, we will replicate it in Spain, Italy and then the Netherlands.
This action, and many others that we will deploy in 2019, will be one of the keys to our
growth.
#TechTechTech, #ProcessProcessProcess
We are eager to continue investing in technology with the ultimate goal of being able to say yes faster and more predictively to companies. We are setting up the first brick of our data-scientists team in January in the Netherlands. The millions of data points we are accumulating will allow us to improve the relevance of our decisions and better serve businesses and our lenders.
Focus on our customers
We know that we exist only because you, both lenders, borrowers and partners, trust us. Constantly improving your experience is our obsession. A good recent example is your desire to have more time before lending to analyse borrowers' financial data. Projects are now in preview for 48 hours before subscribing starts.
Finally, to conclude, allow us to thank you. Your many words of encouragement motivate us and remind us why we do our job (and don't worry, we also read and integrate the constructive criticisms ☺️).
We wish you all a happy 2019!