If there is one tradition we particularly like to stick to, it is our annual open letter to the October community – all the more so in 2021, such an intense year.
We mentioned in our open letter of last year, we would continue to work hard, with enthusiasm and curiosity! We promised to lend more efficiently to businesses, to constantly improve our technology, and to fight even harder to support companies. It was a year full of new insights, learnings and hard work to finance businesses better.
2021 in numbers
It's been a year of impressive growth for our business.
886 SMEs supported, €186m made available to entrepreneurs, more projects funded than in 2018, 2019 and 2020 combined.
350 new features developed or improved, 16 releases, 18,474 code commits (simply put, a commit is a piece of code that is validated and put into production).
This dynamic performance is obviously reflected in our own income statement. 72% increase in turnover despite a constant-sized team (104 people), a convergence towards profitability in our best countries: in short, healthy growth that makes us want to accelerate.
Visible innovation… or not !
Perhaps the most impressive and noticeable innovation of 2021 was Instant Lending based on Open Banking. Making a decision in seconds in a simple and user-friendly way is the Holy Grail we have been pursuing for the past seven years.
Qonto's customers and recipients of State Guaranteed loans, in France or in Italy, are the first beneficiaries of this innovation which represents a quarter of the loans granted in 2021. But we don't intend to stop there.
As is often the case, the most interesting innovation is the one that cannot be seen. The one that allows better, more informed, faster decisions to be made. The advances we have made, for example, in the automatic processing of bank accounts or the verification of documents provided by the borrower are major advances. Perhaps the best evidence of this is shown in the graph below. How to read it? Thanks to our scoring technology (Magpie in our internal lingo), the default rate has been halved, while the acceptance rate has been multiplied by 5. This graph alone helps to galvanise the whole team in the quest for the ultimate technology.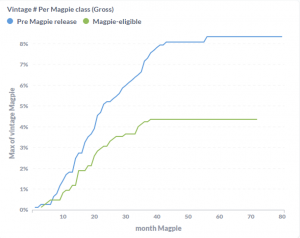 October Connect's first year
2021 is also the year in which for the first time we sold our technology to other financial players in a structured way. As a simple SaaS available via API, they can use our toolbox to qualify leads, check their quality before transferring funds, better monitor the evolution of their portfolio, fight against fraud or window dressing. We are delighted to discover that what we have been building for the past 7 years is now of interest to many asset managers and even banks. Zencap, Tikehau, Eurazeo, 123IM and Bpifrance (the French public investment bank) are all precursors who have inspired our sales teams with their early confidence. Today, October Connect already represents 15% of our turnover.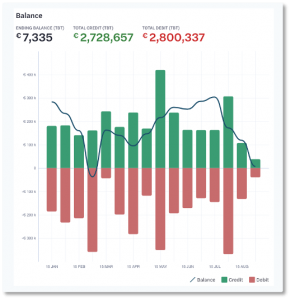 Enough money to finance our ambitions
We have been saying it for seven years: lending money to businesses is a perennial chicken-and-egg problem. Increasing the amount of money borrowed to such an extent has required a redoubling of efforts on the lending side. This is an opportunity to thank our community of 29,000 active lenders and all the institutional investors who have renewed their trust or joined October for the first time. The highlights of 2021? An increasingly European investor base, the arrival of the first Dutch investor (Invest-NL), a wide variety of lenders (from Generali to the European Investment Fund, including family offices, la Caisse des Dépôts and Cassa Depositi e Prestiti).
Together, finally!
After two years of lockdown and a travel ban between Paris, Madrid, Milan, Amsterdam and Munich, we were finally able to meet again in Portugal for a seminar to celebrate the (partial) end of Zoom and to set the main directions for the year to come.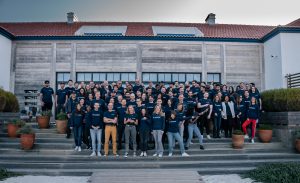 It was also an opportunity to record a change in governance with the appointment of Patrick de Nonneville as CEO and Thorsten Seeger as COO. Olivier Goy, for health reasons, became an active and committed chairman of the supervisory board. As it is difficult to review the new organisation in a few lines, we invite you to read or re-read the details of the change.
If there is one thing to remember here, it is our demonstrated commitment to transparency and the undeniable motivation of an entire team to push forward an ambitious project.
THE big question
In the light of our growth, ambitions and unstoppable focus on technology, we understand that some of you may wonder: is October a lending platform or a Saas provider?
A legitimate question given the growth and potential of the October Connect business by the end of 2021. In fact, we are both! If we come up with good ideas to improve our technology, it is because of our lending business. If we are constantly correcting and improving our technology, it is because of our daily lending business in five countries. Conversely, if our default rates go down and our ability to deploy goes up, it is because of our technology. All of this is in the service of a single mission: finance businesses better.
2022? Pursuing our mission: finance businesses better
Needless to say, after a year like 2021, we're coming into 2022 with the bit between our teeth. We intend to boost both our lending activity and October Connect business.
To do so, we'll need to recharge our batteries! We will raise new funds, recruit new talent to innovate and constantly improve our product. We invite you to visit our Welcome to the Jungle page dedicated to the 54 positions we will be opening in Europe over the next 12 months. If reading this letter convinces you that October has values you fit with and an exciting mission, then we definitely need to talk!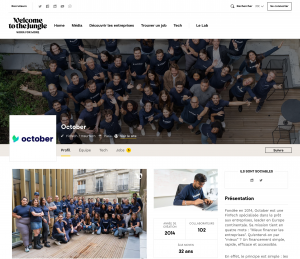 We definitely won't succeed our mission without your support, so we would like to say a big thank you to everyone. We wish you all an excellent year and a positive spirit to navigate through the challenges that life will inevitably throw our way.
The October Team