In April 2015, Lendix made its first loans to the emblematic Borrower Alain Ducasse Entreprise. Such a long way we've come together since… Let's see the results of these 3 years of Fintech adventure. 
From Alain Ducasse Entreprise to Technofirst, 408 projects 🇪🇺
Since the launch of the Platform in April 2015, Lendix funded 408 French, Spanish and Italian projects:
350 French projects for €145,578,637,
29 Spanish projects for €15,705,000,
29 Italian projects for €14,283,000.
€175,566,636 lended
Since its first year of operation in 2015, Lendix allowed SMEs to borrow €11,322,752. This number was multiplied by 3 in 2016, with €45,376,453. In 2017, it was multiplied by 2 and the Platform recorded €86,453,281 of funding for European companies.
And since January 2018? …  🚀
The first term of 2018 was the best since Lendix was launched (in volume and in amount). Amount lent was multiplied by 2,9 compared to 2017's first term. 50 projects were funded for a total amount of €32,414,150, against 28 projects for €11,221,358 on the same period in 2017. We have now lent €175,000,000 since inception.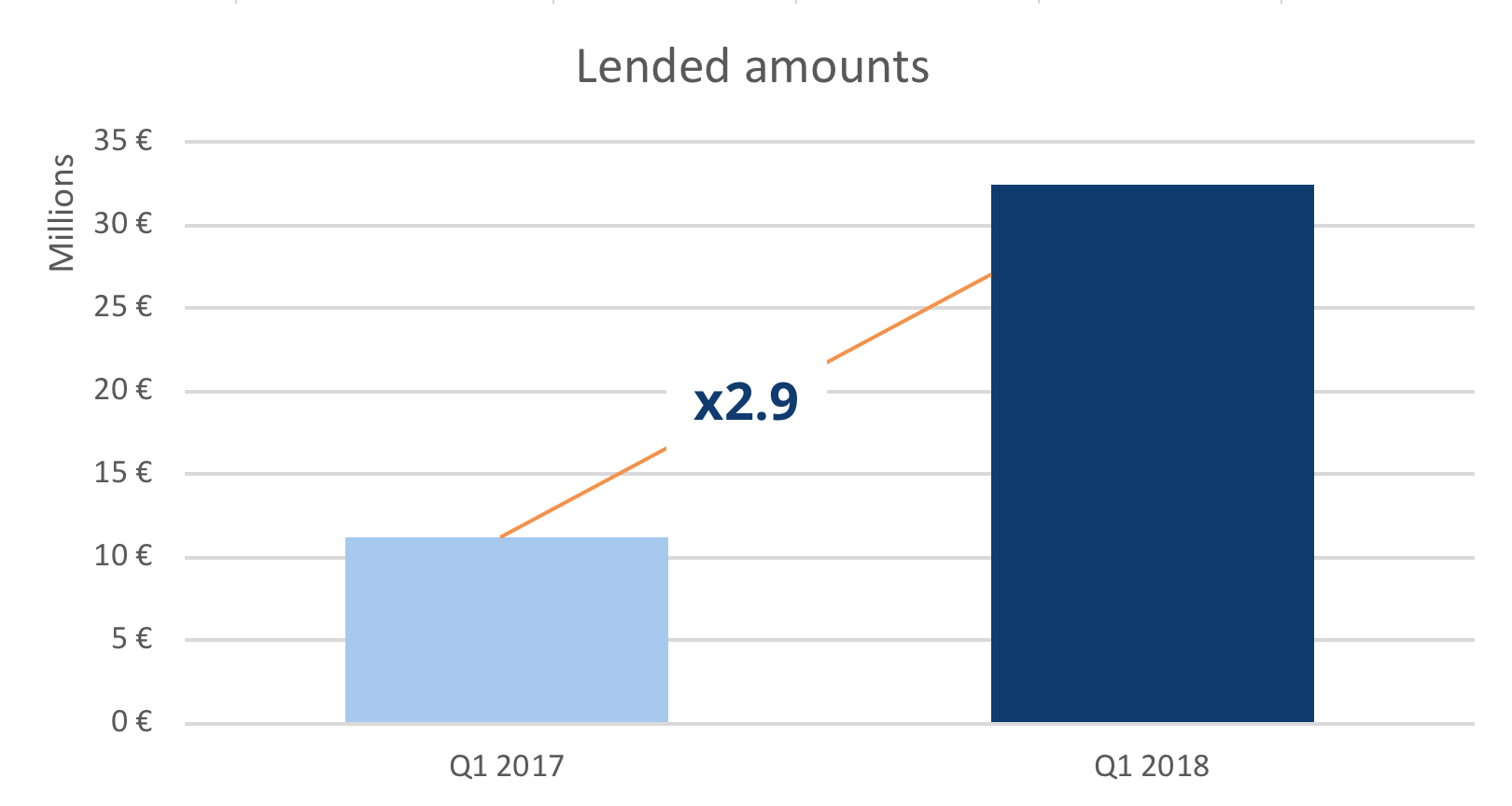 By the way, what do those loans look like?
The average length of a Lendix Project is 49 months. More precisely: 50 months in France, 45 months in Spain, and 38 months in Italy (companies can borrow on Lendix for a length that goes from 3 months to 7 years).
In France, 48% of the Projects exceeds 60 months, in Spain it is 41%, and only 3% in Italy!
In Italy, 58% of the projects reimburse on a period of 36 months or less, against 45% in Spain and 33% in France.

In those 3 countries, more than half of the funded Projects are B-rated. It represents 206 French Projects, 16 Spanish Projects and 15 Italian Projects. The B note represents a medium risk (the rates go from 4 to 6.75%).
A default rate that remains under control
Transparency is one of Lendix's key values. That is why we openly publish updated statistics every month. The default rate has been stable and under control since the beginning of Lendix, with an average of 1% (in amounts).
As we keep saying, lending to SMEs is a risky business. Also, the best investment strategy to reduce the risk of capital loss is to diversify your loan portfolio. The more diversified it is, the more statistically stable is the yield.
Much more concrete for the lenders' portfolio, the rate of return on Lendix loans remains the key element to look at in detail. And as always, here are is the data: the Internal Rates of Return of all Lendix lenders. Each point represents a lender.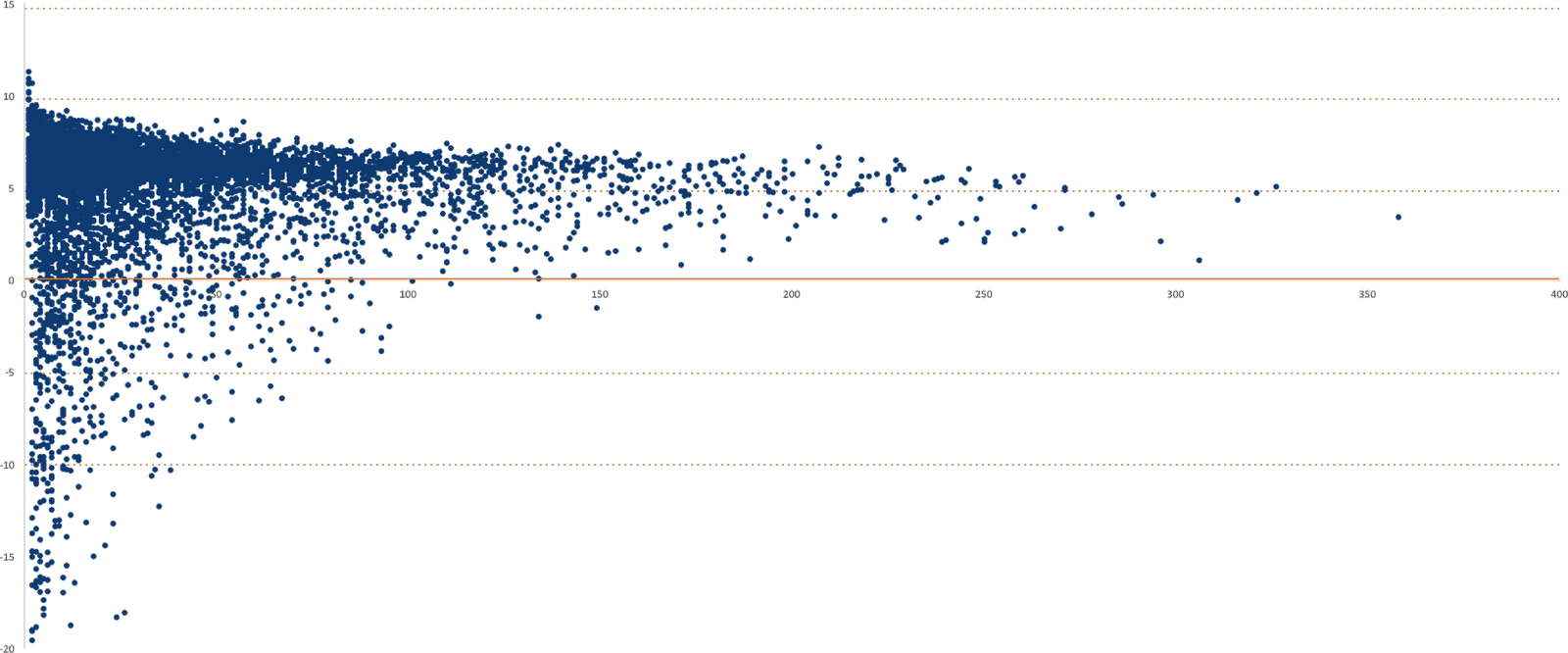 Out of a total of 11,800 active lenders:
5.6% have a negative rate of return. These lenders, at this stage, are losing money because they have not diversified their portfolio enough (often single project lenders with a default).
8.9% have a rate of return between 0 and 4%.
85.5% have a rate of return higher than 4%
Lendix Lenders, a community of 12,000 active Lenders  
Since April 2015, Lendix has grown in its lending community and has now over 11,800 active Lenders. Our active Lenders come from different European countries. While France, with 9,665 Lenders, still represents 80% of our lenders, Spain and Italy are growing strongly. In the first quarter of 2018 alone, Lendix recorded 5,000 new registrations compared to an average of 2,800 new registrations per quarter in 2017.
Lendix Lenders are also institutional investors who, as you know, guarantee SMEs the financing of their projects and finance amounts ranging from €30,000 to €5,000,000. To name a few, we have the European Investment Bank (EIB) through the European Investment Fund (EIF), CNP Assurances, Eiffel IM, Groupama, Zencap AM, Matmut and Decaux Brothers Investissements to support us. They lend through the Funds, of which the third of €200,000,000 was launched last January. In total, €316,000,000 have been committed since April 2015 to support European companies, including the €200,000,000 that will be mobilised over the next 12 to 18 months.
From 🇫🇷Thibault, Matthieu and Anne-Laure to 🇪🇸Domingo, Lorena and Rocío, then 🇮🇹 Sergio, Matteo et Roberta
In the beginning, the Lendix team was mainly made up of French talents. In April 2015, 10 people based in Paris were on launching the first projects. Today Lendix is a European team of 75 people in 3 offices (in Paris, Madrid and Milan), with varied and complementary profiles to serve French, Spanish, Italian and tomorrow Dutch and German SMEs and meet the needs of its community of private and institutional Lenders.
A huge thank you 🙏 for your trust and your support. Let's continue this great aventure together, build the Europe of savings, and continue to help SMEs everyday!
Bonus 💙
We thank you for all your messages of encouragement. We are so pleased and it helps us to grow even faster. We're sharing some of the messages that particularly moved us. A thousand times, thank you.

Translation : Keep up the good work ! Your success isn't hazardous, it is the result of hard work. It's purely the definition of French touch ! Lendix forever.

Translation : Beautiful growth ! Congratulations to the Lendix teams for their professionalism and their contribution to European economy. New projects are funded every day these past weeks.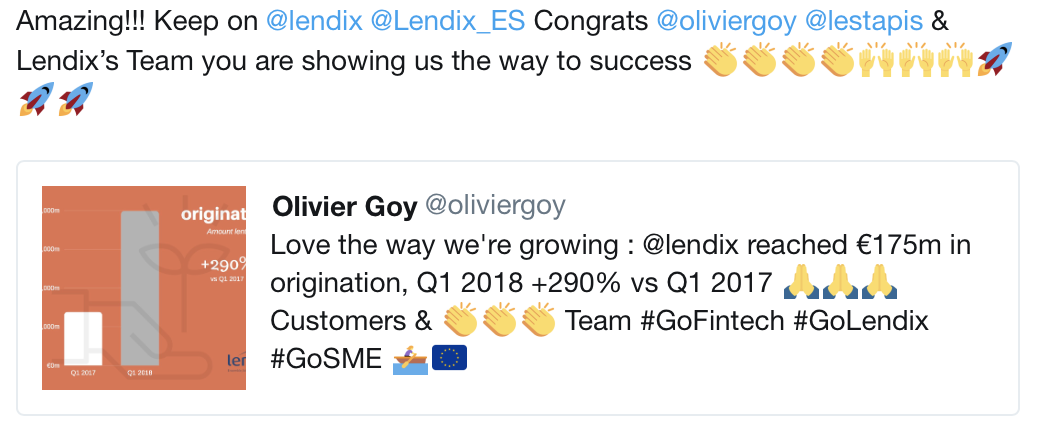 Translation : The funds well arrived last evening on the Account and I thank you for it. Anne-Laure, thank you for your follow up on our dossier, and thank you to the entire team, it's always a pleasure to work with you. I wish you a great development.

Translation : My greatest vows to you, too. Thanks Lendix for your follow up, and to you in particular for the efficient and sympathetic follow up of our dossiers. Continue the good work and growth in 2018, it is amazing.