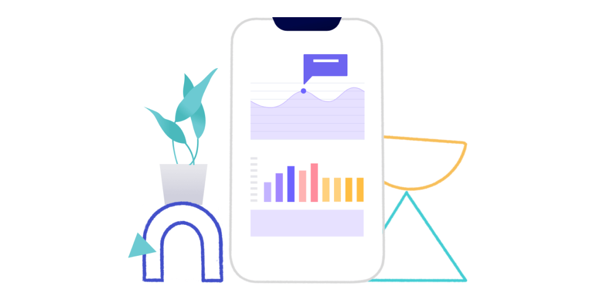 The October app makes your life easier: you can access your account from your smartphone anytime, lend to business from anywhere, manage your portfolio on the fly and be up to date with all your in- and outgoing transactions. But, do you use the full potential of the app?
Over the past few months our app has undergone a complete restyling. We have released a series of updates that have made access to the platform from mobile increasingly simple, fast and efficient. Be sure to use the full potential of the app and find the recap of all new features below:
June 2019
We have introduced biometric verification, i.e. the possibility of securing your transactions with a fingerprint (Touch ID) or facial recognition (Face ID). This makes security checks much faster and allows you to complete a loan without having to wait for the code via SMS. It's also helpful when you have bad signal. Before you can use biometric verification, you have to flip the switch in the settings of your app.
July 2019
A new main screen for the app that now shows your activity on the platform. On this screen you can see all your incoming and outgoing transactions. When you are repaid for multiple loans at once, you can click on the repayment and see for which loans you have been repaid.  Take control of your money with this new page.
August 2019
The account settings page has been improved. Now you can more easily turn on biometric verification, access the tutorials or chat directly with our support team. Also, you can now share your promotion code directly from the app on your preferred social media. If friends or family sign up with your promotion code, you can both earn a bonus of €20 to spend on the platform.
September 2019
Introduction of a new flow when you grant a loan to a company. When deciding whether you want to lend €20, €60 or €500 to a project, you can now easily return to the project description as many times as you would like. Read the description and review the clear overview of the company's accounts before you make your decision. When you've decided on how much you want to lend, you can read the contract in the language you prefer. Select your language from the menu.
October 2019
A new system to top up and withdraw funds from your October account directly from the app. Charge your card with up to €2,000 per month directly through credit card. Or use a bank transfer for unlimited deposits.
December 2019
One of our company goals is to always improve. The app is a prime example. The updates to the app do not end here. This week we've made the first steps to implement the registration process in the app for an even smoother experience. We will continue improving into the new year.
#StayTuned for more updates. In the development logs in the App Store, you can always see what has been improved.
Haven't installed the app yet? Download it for iOS or Android and lend to businesses in the blink of an eye.