Vince.nl was founded in 2018 and is active in the online sale of, among other things, home appliances. The company is run by Vince Ruiter. At 25 years old, Vince is a young entrepreneur with a good dose of experience. From selling a small trade on Marktplaats to a portfolio of no less than 50 products on the retail platform Bol.com, under one of their brands Qumax Brands, Vince (left on photo), his partner Roy Krul (right on photo) and their team are working hard. As a result, Vince sought business funding of €215,000 on October to test new products and purchase stock. In this borrowerstory we talk to this entrepreneur to find out how he managed to do this.
Starting with 10 wheelbarrows
Vince started online entrepreneurship 5 years ago and it was his father who gave him the first push. "I've always been interested in entrepreneurship and investing, I read a lot of books about these topics. And after finishing my high school education I soon came into contact with entrepreneurship myself. At the time I had a side job in my father's company. He has a garden and park machinery company, and sells lawn mowers, among other things. He also sold these products on Marktplaats, a Dutch online trading platform. Next to his company was an import and export company, which imported products from China and resold them to wholesalers and stores in the Netherlands. My father advised me to visit them, buy a product there and sell it myself on Marktplaats. And that's what I did. I bought ten wheelbarrow DIY kits for 150 euros. I took them home, took pictures of them and put them on Marktplaats with the text 'brand new and ready to collect'. And that started to take off quickly, within a few days the first wheelbarrow was ordered and picked up."
Selling 5 brands online
The sale of the wheelbarrows is going well for Vince, and soon he is making the next step in his entrepreneurship. "With the plan to offer products on Bol.com (a Dutch online retailer) as a sole proprietorship, I registered with the Chamber of Commerce. With a few thousand euros in savings and a small loan I could get started right away. Why did I choose Bol.com? This is the place to buy new products. So I made the choice to start with gadgets and products for smartphones. That began to sell well immediately. But I wanted to take it more seriously, so I started attending courses and training sessions. And with results; I was growing fast and set up my B.V. within a year. I borrowed 100,000 euros from a number of other entrepreneurs, in exchange for shares and made the agreement with them that I could buy them out again. In the two years that followed, with this loan I grew into a company with a million euro turnover. What I quickly noticed on Bol's platform is that the big A brands don't always perform well. Their focus is not enough on this platform, for example, they pay little attention to obtaining reviews. As an entrepreneur, I naturally thought: we can do better. So we introduced our own brands, including Qumax, the kitchen brand Rochester and Loftey, a brand for stylish household products such as trash cans and planters. Currently we put 50 products away on Bol, divided into 5 brands."
Designing and developing products himself
It's clear: Vince sees opportunities and exploits them. Does he see that the consumer needs a new product? Then he makes sure it comes. "We sell mainly on Bol.com, about 90% of our sales come from here. The remaining part goes through B2B, such as auction sites. With my team of 5 people, we continuously provide quality products with a fair price. We do this by also designing and developing products ourselves, mostly in China. The conception and creation of new products all starts with seeing an opportunity in the market. A good example is 'Onyx', our own hand luggage brand. Hand luggage is about 2 things: the design and functionality. In this case, we saw that hand luggage cases often require the entire case to be opened to take out important items such as a laptop. We came up with a product with a handy front pocket where you can quickly get to these items. For further development and production, we found a good manufacturer in China. And now we are one of the first providers on the market, with 3 beautiful designs."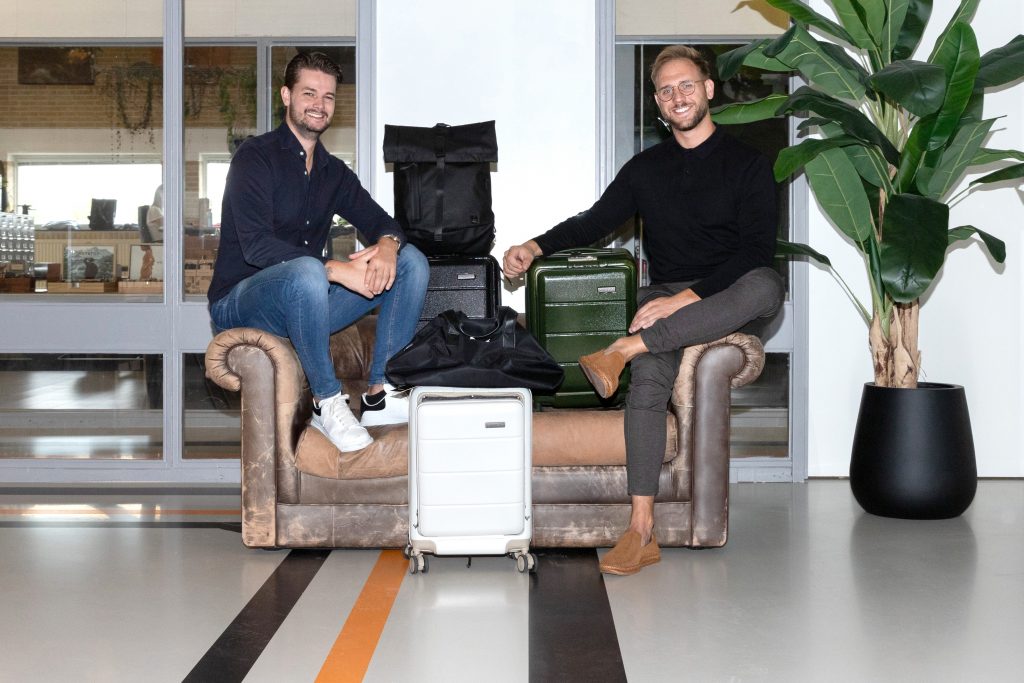 High risk, high reward entrepreneurship
"The beauty of entrepreneurship is working out a good idea for a product, bringing it to market and seeing that it sells well. When we have created a new product I am really proud, and receiving good reviews on Bol.com is satisfying. I personally get a tremendous boost from that. Entrepreneurship is a 'high risk, high reward' lifestyle, taking risks is a natural thing to do. Of course I also encounter myself sometimes in entrepreneurship. Sometimes I want to go faster than is possible, then I have to stop and think about long-term goals, and that is sometimes difficult. There are entrepreneurs I keep an eye on and learn a lot from. Like Jeff Bezos of Amazon and Pieter Zwart of Coolblue. But also young entrepreneurs like Adriaan Mol of Mollie inspire me. My Big Hairy Audacious Goal is that every household has one of our products. We're going to do that by building a portfolio of brands that everyone will soon know."
A financier who thinks along
Vince's business continues to grow, and he is looking for funding to test new products and purchase inventory. "We have been in contact with the bank, but our ambitions turned out to be bigger than what they could offer. To obtain a business loan, we wanted to engage a financier who would actually look, with us, at the development of the business. An acquaintance, who is also active on Bol.com, advised me to talk to October. And I did and it worked out well. October saw that we have a strong team, our systems are well put together and our vision at Bol.com is clear. The contact with the October team was good and it felt familiar. The process went quickly. But above all: they think along with us. They understood that we needed a number of months to achieve turnover and gave us the space to do so. That is what we are looking for in a financing platform. Thanks to October's financing, we are going to increase to 150,000 orders with a turnover of 4 million in 2022."
In need of financing? See what October can do for you, test your eligibility in 1 minute!