Amelia (by Regourd Aviation) is a fully integrated French aeronautical company, offering a travel experience in France and abroad for over 40 years. The group has many activities: corporate aviation, business aviation, scheduled flights, etc… In January 2020, Amelia launched its first scheduled line in Europe flying under its own name, Amelia International. The Covid-19 crisis hit the airline industry hard, including Amelia which, following the airports and borders' lockdown, was forced to drastically reduce its flight schedules.
Prepared to respond to sanitary emergencies
However, Amelia has been able to adapt to this particular context. To do this, the group has equipped its Embraer 145 with some rather unusual equipment. Amelia transformed its aircraft to accommodate 2 stretchers and up to 36 passengers. In the event of a sanitary emergency, Amelia is ready to respond, thanks to a fleet of equipped aircraft available 24/7 throughout Europe, Africa and the Middle East.
"The Covid-19 crisis, which occurred suddenly in France and well beyond our borders, is causing hundreds of thousands of sick people. Not all of us are fortunate enough to be able to be treated in time and in good conditions. It seemed obvious to us to make our grounded aircraft available to people and institutions in need. To do so we financed the purchase of stretchers, and a few weeks ago we obtained the right to carry out sanitary flights almost anywhere in the world". – Solenne Regourd, Head of Development projects.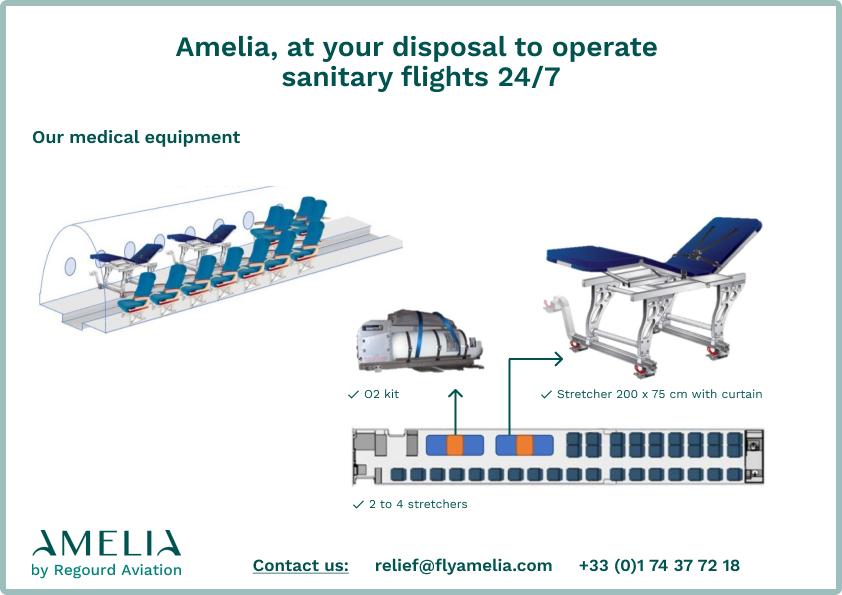 A new challenge for Amelia
The group is now at a turning point in its history. It is convinced that the response to the future needs of its customers must include the creation, innovation and digitalisation of its activities.
"We had to reorganize our activities and work methods very quickly. Our teams are able to prepare flights in a few hours to deal with health emergencies almost anywhere in the world. To do this, we have of course also put in place strict hygiene measures in line with government guidelines." – Solenne Regourd.
Amelia is looking forward to being able to resume her commercial flights. Amelia International has joined forces with the airlines operating at Orly to call for a reopening of Orly airport, set for 26 June.
Amelia has financed its growth on several occasions through October, including in 2019 with a loan of €888,000.