We are in special times. That certainly applies to SMEs. How long this will take is uncertain, but fortunately we are staying strong and many entrepreneurs are standing up for the people who need an extra helping hand right now. In this series 'Borrowers Helping Out' we share inspiring and beautiful initiatives from 'our' borrowers in France, Italy, Spain and the Netherlands. In the Netherlands, for example, we see that Active Cues takes good care of healthcare institutions. And Drankenhuys Bergmans sends a gesture of thanks to the care staff.
All Tovertafel-games available for 3600 healthcare institutions
With healthcare institutions forced by the Coronavirus to keep their doors closed for visitors, moments of joy and valuable contact are more important than ever. That's why Active Cues decided to make the complete set of their Tovertafel games (Tovertafel is Dutch for Magic Table) available to all healthcare institutions that have the Tovertafel at home.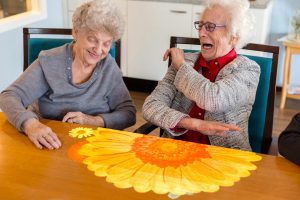 It is a special product, the Tovertafel. Hester Le Riche, CEO of the Dutch medtech company Active Cues, launched the healthcare innovation in 2015. The Tovertafel, which helps elderly people with dementia, people with a mental disability and children with cognitive challenges, is a box  attached to the ceiling. This box then projects interactive games on the table in which the projections react to hand and arm movements of the participants. The games stimulate not only improved focus but also social interactions and physical activity.
Worldwide impact
By giving full access to all the games, the Tovertafel offers residents and staff of healthcare institutions extra moments of happiness. And the impact is large; Active Cues not only delivers Magic Tables in the Netherlands, but also in Belgium, Germany, Great Britain, France, Sweden, Norway, Denmark, Australia and New Zealand. In the coming months, over 3600 healthcare institutions will have access to all Tovertafel games.
The appreciation for this initiative is great. "We received numerous positive reactions. The healthcare staff is grateful that we are thinking about creating more happy moments for the elderly. And people with a mental disability, who normally go outdoors a lot, enjoy the gesture", explains Claudia de Widt, Corporate Communications Manager of Active Cues.
Instruction videos and demonstrations via Skype
COVID-19 also means that Active Cues' work is organized in a different manner "Especially in these times, the need to be together is even greater," says Claudia. "Of course, we will continue to meet that need with our healthcare institutions. We deliver Magic Tables right up to the door, and in case we can't install them personally, we provide clear instructions via video and remote service. We also give demonstrations via Skype. And that works well."
A gesture of thanks to hospital staff 
Throughout Europe, many people expressed their gratitude to healthcare personnel. Sebastiaan van Leemput, owner of Drankenhuys Bergmans, is one of them. With 100 bottles of Sauvignon Blanc wrapped in a giftbox and a personal message, he encourages the staff of the Elisabeth-TweeSteden Hospital (ETZ), to keep up the great work they're doing.
A gesture of thanks in the region
And that's not all Sebastiaan did. "We just wanted to do something good. I manage 8 branches of Domino's Pizza in Gelderland (province in the Netherlands). So on March 18th I decided to bake 300 pizzas for hospital staff in this province. The hospital staff reacted enthusiastically. Because my wife and I also own Drankenhuys Bergmans in Waalwijk, I thought it was important to also thank the healthcare personnel in this region. I therefore contacted the hospital in Waalwijk, who then gave me permission to deliver the bottles of wine. We received nice reactions, the staff thought it was a warm gesture", says Sebastiaan.
Sebastiaan is certainly not keeping still in these turbulent times. "In addition to the successful Drankenhuys and my Domino's Pizza branches, I teach history and social classes two mornings per week. Of course, I now also do this online, for 30 students via the online Microsoft Teams. It's a busy period, but I really enjoy dedicating myself to others".