We continue our "Behind the Scenes" series with Benjamin Schroeder, Sales Strategist in France for October Connect.
In this fourth article, let's find out more about the team at October Connect that offers a SaaS software publishing solution.
Benjamin joined the Connect team in July 2022, he will tell us about his daily missions and the organization of his team.
For those unfamiliar with the October Connect solution, can you introduce it?
October Connect is a modular offering designed to help companies accelerate their analysis at two levels: financial and risk. Our solution centralizes all data into one platform and offers five detailed reports, which are:
Fraud attempt analysis: Doc X-Ray and Manager X-Ray.
Financial analysis: Bank X-Ray and Financial X-Ray.
Environmental, Social and Governance Risk Analysis: ESG X-Ray.
Our modules, designed specifically for the financial services industry, allow companies to benefit from accurate and instantaneous analysis. We are very proud of our latest module, ESG X-Ray, which enables finance companies to comply with the European and SFDR taxonomy.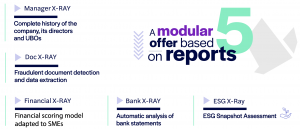 Can you tell us more about yourself, your team as well as your missions?
I am part of the October Connect team, a SaaS software publishing solution of October. The team is composed of about fifteen people who are divided into three areas: sales, account managers and marketing. October Connect is headed by the General Manager, Mathieu Louvrier. As a Sales Strategist, I have two main responsibilities. On the one hand, I am in charge of defining October Connect's sales strategy in response to market needs, with the aim of evolving our offering and growing our business. On the other hand, I am also responsible for business development, which involves managing the prospection in France and in Europe.
Our current mission at October Connect is twofold: to initiate scalability in our offer and accelerate our development in Europe.
Can you describe your typical day within the October team?
Although it is difficult to have a typical day when launching a business activity, some missions are inherent to my job: synchronizing our prospecting actions on a European scale, organizing and debriefing customer meetings, feeding our CRM with prospecting actions, etc.
Nevertheless, a typical day usually starts with internal meetings to align our sales activities in the different countries and discuss our prospecting strategies. Then I often have meetings with prospects to present the October Connect solution, understand their needs, and see if our solution can meet them. Very regularly in my day, I continue the mapping work to identify the next people to contact and prepare my personalized sequences.
Finally, I work daily with the rest of the October Connect team to share feedback from prospects with the product teams to continue to evolve our offering and product.
How does the process work with a prospect?
Before you even get in touch with a prospect, there is a lot of background work. The very first step is to map an industry among financial services to fully understand its players, their challenges and their needs. I often rely on my professional network to contact experts and discuss these different points with them.
Then, I make a list of the players for whom I think our solution could be useful and I identify the people to contact.
Finally, I try to contact them with sequences of emails and fully personalized messages. Although the volume of prospecting is important, I believe that having a personalized and unique approach is even more important.
Thanks to these sequences, I organize first meetings during which I present our solution and further qualify the prospect and his needs. The objective of this first meeting is to understand the prospect's issues in order to determine if there is a business opportunity. If there is, I send the file to a Sales person who will take care of the product demonstration and the eventual contracting.
How is October Connect positioned in the market today compared to its competitors?
Today, October Connect is a unique player in the market for several reasons. First, our cutting-edge technology has enabled our clients to lend more than €1 billion, demonstrating our ability to meet the needs of the financial market. In addition, our solution stands out from that of our competitors because of its comprehensive dimension, ranging from fraud detection to ESG rating. Finally, it should also be noted that the product was designed by financial services professionals to meet the business needs of the sector. This key element in the construction of our tool gives us a unique position as a trusted solution, and testifies to the quality and relevance of our modules.
What are the key figures for Connect?
October Connect is a great success story for October with 72% revenue growth between 2020 and 2021 and a presence in five European countries. With models trained on more than 250,000 queries, October Connect's technology has enabled our clients, such as BPI, Silvr or simply October, to finance more than €1 billion to more than 4,000 SMEs.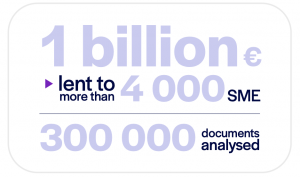 What do you enjoy most about your job?
For me, there are two things I particularly enjoy about my job. First of all, there is the strategic aspect. October Connect is a relatively young offering for October, and as a result, we are constantly evolving. This dynamic means that there are constantly things to create and implement, which makes my job exciting.
Secondly, I enjoy the human dimension of my job. In short, my daily work consists of detecting the junction between the customer needs I identify and the solutions of our platform. Listening carefully to prospects to understand their needs and sharing different ways of meeting them is a problem-solving and collaborative job that I particularly enjoy.
If you'd like to learn more, please feel free to contact Benjamin.