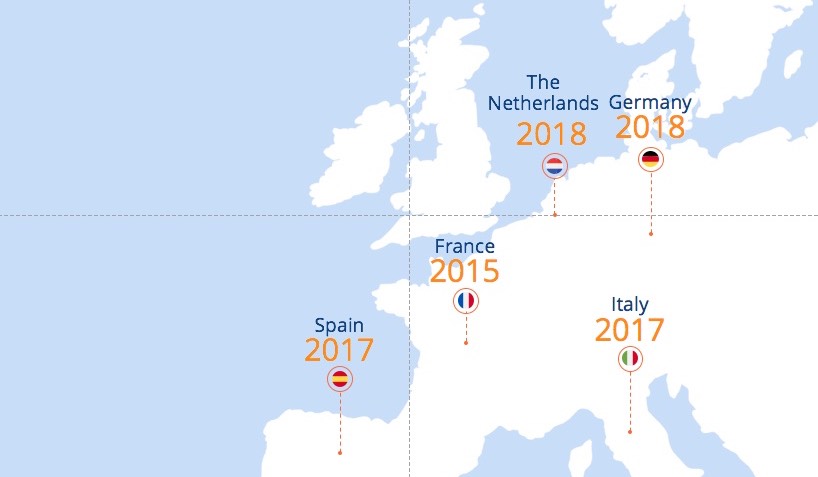 After France, Spain and Italy, Lendix announces its opening in Germany and the Netherlands; it will be active in 5 European countries. As for the first expansions, in Spain and Italy, the German and Dutch teams will be established locally.
Continuing its plan to lead the European SME lending market, fintech company Lendix continues its geographical expansion. As it did when it opened in Spain and Italy, the marketplace lender will establish a local presence to establish proximity with its customers, especially borrowers.
« The cornerstone of opening a new location is creating a local team led by an experienced CEO who can successfully drive our integration within local networks » said Olivier Goy, founder of Lendix.
« We have been laying the groundwork for this over the last six months, including beefing up our senior team with roles including Europe Chief Risk Officer, Productivity Manager and a new CFO » added Patrick de Nonneville, COO of Lendix.
Lendix's expansion will also benefit from the €200m institutional financing announced last month, as well as the technology developed during the launch in Spain and Italy.
« This funding was raised to be deployed in all the European countries we open. Operating a marketplace is a classic chicken and egg situation, it's a great advantage for Lendix and its clients to have in part solved this issue » explains Olivier Goy.
With Lendix, European SMEs can borrow from €30k to €5m, for 3 months to 7 years, from a solid base of retail and institutional investors.