Martine L. has been a Lender on Lendix since January 2018 and in 7 months she has managed to build a portfolio of 37 projects. With 53% of her portfolio invested towards Spanish and Italian projects, she is a European convinced and committed ! Martine is 51 years old and lives near Limoges.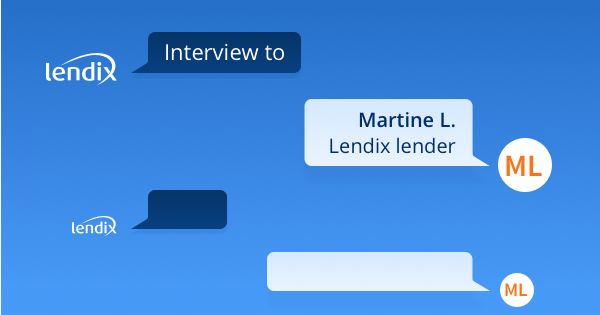 Last Saturday, Martine was the last Lender to invest in the project 🇪🇸 Oikos Hotels allowing Lendix to exceed the 200 million euros financed! As we announced on Facebook, Twitter and Linkedin, Martine received $200 directly into her Lendix Account to thank her for her trust and commitment to the Lendix Lenders community. A she was one of 3,352 Lenders to participate in this competition, it was definitely necessary to be watching the live counter on lendix.com to be able to win , but a big bravo and thanks to all for your strong engagement this weekend 💪
Here is a transcript of the interview we had with her earlier this week after calling her to tell her she was the lucky winner 🌈
Lendix: How did you hear about participatory financing and Lendix?
Martine L: My son told me about it, but at first, I was not very convinced, rather reluctant… Yet he knew how to be patient; he insisted by explaining to me step by step how Lendix worked. Among other things, he explained your transparency and the fact that Lendix managers also systematically lend to all projects. It's reassuring. He managed to convince me and became my "sponsor" on Lendix (*).
(*) To find your sponsor code on Lendix you can click on this link: you just need your friends to click on it during registration and fund their account to receive their first loan offered. 
Lendix: What are your motivations to lend on a platform like ours?
Martine L: I wanted to try something new. I saw, in Lendix, the opportunity to have returns on my investments whilst being useful – at my small level – by investing in projects from French, Spanish or Italian companies.
Lendix: How do you select projects?
Martine L: I trust the Lendix team's analysis and I try to diversify my portfolio according to the loans offered.
Lendix: How do you allocate the risks associated with the investment?
Martine L: By lending little to a maximum number of projects in order to minimise risks.
Lendix: Do you have an analytical approach to each project or rather maximum volume and diversification?
Martine L: I am a simple lender, with no particular knowledge in economics and/or finance but I try to analyse, thanks to the work done on the company and its project upstream by Lender's credit and borrowers teams, whilst a part of my choice is also made by a "feeling".
Lendix: What other type of savings do you use?
Martine L: Precautionary savings, available immediately if necessary with the Livret A, a life insurance for the long term but after the advice from my son, I also invested a little in the stock market.